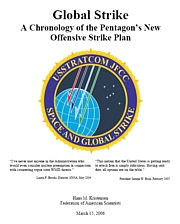 This Global Strike chronology traces the evolution of Global Strike. Download report (warning 250 pages/4 MB)

Nuclear Brief March 15, 2006 (updated August 8, 2006)

Report: Global Strike Chronology

(Update August 8, 2006: Space and Global Strike has been reorganized and is now called Global Strike Integration. Space is a separate Component Command)

At the end of September 2006, the Joint Functional Component Command for Global Strike and Integration (formerly Space and Global Strike) is scheduled to achieve Full Operational Capability (FOC). That event builds on Global Strike capabilities developed over many years to provide new offensive strike options to the President against proliferators of weapons of mass destruction.

This chronology lists the most important of the developments that led to the creation of the Pentagon's newest and most offensive strike plan. Although Global Strike is primarily a non-nuclear mission, the information collected for this chronology reveal that nuclear weapons are surprisingly prominent in both the planning and command structure for Global Strike.

The roots of the nuclear option in Global Strike go back more than a decade to the early 1990s, where military planners and policy makers gradually began to broaden the scope of U.S. nuclear strategy to incorporate missions against proliferators armed with weapons of mass destruction. Yet the nuclear counterproliferation mission was controversial because it appeared to broaden rather than reduce the role of nuclear weapons. The attacks on the World Trade Center and Pentagon in September 2001 removed those constraints and led to the formulation of new guidance that has spawned a highly offensive Global Strike mission with prompt or even preemptive strike planning against imminent threats anywhere on (and under) the face of the Earth.

The operational embodiment of the Global Strike mission is CONPLAN 8022, the detailed strike plan directed against proliferation targets in North Korea, Iran, and elsewhere. First operational in 2004, refinement of CONPLAN 8022 continues.

Global Strike CONPLAN 8022 Development Process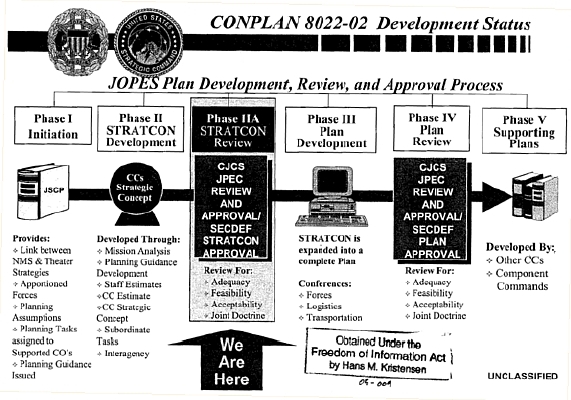 From Joint Staff plan briefing in August 2003. As of January 9, 2006, according to STRATCOM, "CONPLAN 8022-02 has not been completed. Consequently it has not been approved and remains as a 'draft' plan." CONPLAN 8022-01 entered into effect in 2004.
For additional information about the Global Strike mission, use these links:
» Report: Global Strike: A Chronology of the Pentagon's New Offensive Strike Plan.
» Nuclear Brief March 15, 2006: Space and Global Strike Concept of Operations.
» Nuclear Brief December 1, 2005: Global Strike Command Becomes Operational.