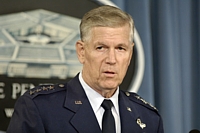 In one of his last statements before he retired, Chairman of the Joint Chiefs of Staff, General Richard Meyers, said the draft nuclear doctrine criticized in the media was far from publication. But was it?

Nuclear Brief October 1, 2005

New Doctrine: How Close to Publication?

Former Chairman of the Joint Chiefs of Staff General Richard Meyers stated during the Pentagon's news briefing on September 20, 2005, that the critique of the forthcoming Doctrine for Joint Nuclear Operations (Joint Pub 3-12) is wrong because it is based on an early draft that "doesn't even reflect the current addition." The draft was "out for coordination at the lieutenant colonel/colonel level. It had not been to general officer/flag officer level yet...[and] has been modified since then," Meyers said.

Yet publication schedules posted on the Joint Staff's web site, but since removed, suggest the doctrine was a great deal closer to publication than Meyers suggested. The schedules show that the draft nuclear doctrine was in the "final" phase for "approval" and that a specific publication date (August 15, 2005) had been chosen. In fact, the doctrine had been in "approval" stage and in "final coordination" phase since October 2004, when the "final coordination adjudicated comments" was "completed," and the next phase was listed as "signature" (see table).
JP 3-12 Production Schedule Milestones

Date
Highlights
Stage
Current Phase
Next Phase
Projected Approval
April 7, 2005
Approval
Final
n.a.
August 15, 2005
December 30, 2004
Approval
FC
Signature. "FC adjudicated comments complete- 15 Dec 04."
January 2005
October 29, 2004
Approval
FC
"Awaiting FC comments from JDDC."
n.a.
July 23, 2004
Revision
Approval
Approval
August 2004
April 9, 2004
Revision
Approval
Approval
May 2004
March 1, 2004
Revision
Approval
Approval
March 2004
December 15, 2003
Revision
Approval
Approval
March 2004
October 31, 2003
Revision
Approval
Approval
March 2004
July 31, 2003
Revision
FC
Approval
December 2003
April 30, 2003
Revision
FC
Approval
November 2003
March 31, 2003
Revision
FC
Approval
November 2003
September 30, 2002
Revision
2nd draft
FC
December 2003
June 23, 2002
Revision
1st draft
2nd draft
October 2003
FC: Final Coordination JDDC: Joint Doctrine Development Community
Another indication of the advanced stage of the draft, which appears to contradict Meyers' statement, comes from the production schedules' record of how quickly other Joint Publications were published after completing their final coordination phase.
One example is Joint Pub 2-01, Joint and National Intelligence Support to Military Operations, which was published on October 7, 2004. This revision was begun in January 2002, completed first draft in July 2002, second draft in January 2003, and final coordination draft in December 2003. After that, "approval" was scheduled for May 2004 but slipped to October 7, 2004, when the doctrine was finally approved and published. In other words, less than a year between final coordination draft and approval. There are many other cases like this in the production schedules.
Doctrine for Joint Nuclear Operations (JP 3-12) completed final coordination draft in October 2004, and went through a unique second coordination draft that was completed in March 2005. This additional process clarified the issues so much that the specific date of August 15, 2005, was set for both signature and publication.
All of this strongly suggests that the doctrine was very close to publication when it was critiqued in Arms Control Today on September 7, 2005, and reported in the Washington Post on September 11. If Gen. Meyers' statement means that the draft doctrine has been changed considerably because of the critique of some of its core elements, then that is all for the better.