The Freedom of Information Act
When It Seems Too Much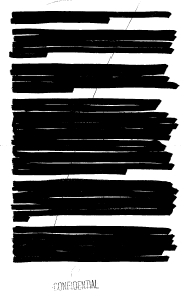 Declassification is a "human" process that involves a FOIA officer making assessments about the need to withhold information. Some FOIA officers are really professional, while others just seem to withhold.
The Freedom of Information Act (FOIA) establishes the right of every person on earth to request and receive information from U.S. government agencies about the operations of the government.
My experience (which spans nearly two decades) is that declassification can take anywhere from two weeks (my record) to more than half a decade. By learning how to fraise the request correctly, sending it to the right place, and making the request as specific as possible, it is possible to reduce processing time.
For background on how to use the FOIA and addresses for where to send your requests, visit the FOIA web sites of the following government agencies:
» Department of Justice FOIA
» Department of Defense FOIA
» Department of State FOIA
In this section you can find the following:
» Index of FOIA documents used on this web site.
» News: STRATCOM's fee assessment overruled by OSD.

© Hans M. Kristensen | www.nukestrat.com | 2004-2005